Board of Directors
Mr. & Mrs. Chaplain Ray, the founders of International Prison Ministry of Dallas, USA. For more than 30 years IPM was publishing true stories of criminals whose lives has been changed by the Word of God. IPM books where printed in English, Spanish, Russian, Ukrainian, Hindi and other languages. Most of estbalished prison ministries in the USA take their roots from simple interviews with Chaplain Ray for his National Prison Ministry broadcast, later transformed into the book and distributed in jails and prisons all over America.
They call them "Chaplain Ray's Boys" - Jack Murphy, Frank Costantino, John Sala, Mark Maciel, Bob Erler, dozens of others. Today they come together again, to continue what Chaplain Ray and Leola was doing - to share their testimonies, to lead "the least" to Christ, to help young ministries to get on feet, now at the Board of Directors of the International Network of Prison Ministries!
---
...They all were living in the fast lane, being cool, rich and high, having «real» fun — or so they thought at the time. Making bad decisions they ended up in jail, or in various prisons, some of them with VERY long terms, like Jack «Murf the Surf» Murphy — two double life sentences plus twenty additional years on top of that!
The Lord brought them back into Society with the aim of sending them to theprisons on the mission: «with a message of Salvation and a New Life in Christ.»
All of the Board of Directors know very well what the conditions are in prisons and what it means to be behind bars. Most importantly, they all know the conditions of juveniles, women and men being behind bars. Each Board member has the knowledge, passion and the commitment to help bring your loved ones home CHANGED, or to help you to lift-up your prison ministry to new heights.
Some of the newer Board members never «have done time,» but they are the finest Christians with the understanding that their real burden is to the inmates. It was the Lord, who sent them to this mission field.
Most of the Board members have known one another for several decades now, having been faithful in the field of Prison Ministry. They meet often, they trust and respect one another and you can place your trust in them as well!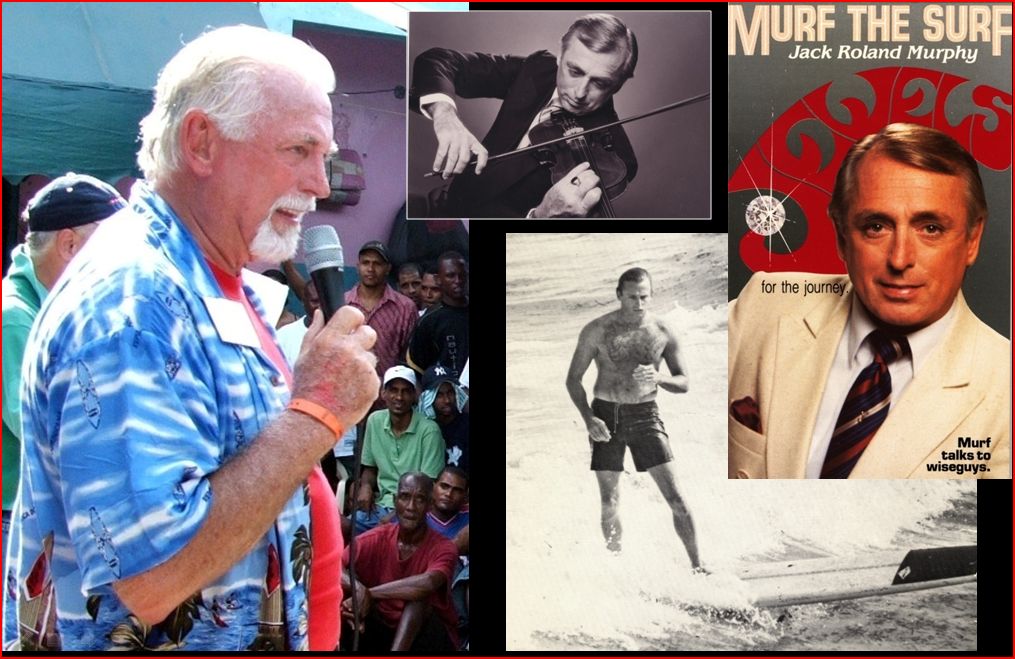 JACK «MURF THE SURF» MURPHY — Surfing Champion, musician, author, artist. The movie, Murf the Surf recounts the jewel robbery of the century when Murf and his partner stole the J.P. Morgan gem collection including the largest star sapphire in the world, and 27 other precious gems. Released, after serving 21 years in prison, Jack speaks across America to young people and prisoners about turning tragedy into triumph. In 1996 he was inducted in to the National Surfing Hall of Fame.
Jack Murphy's website: Murf-the-Surf.us
INPM page: PrisonMinistry.net/jm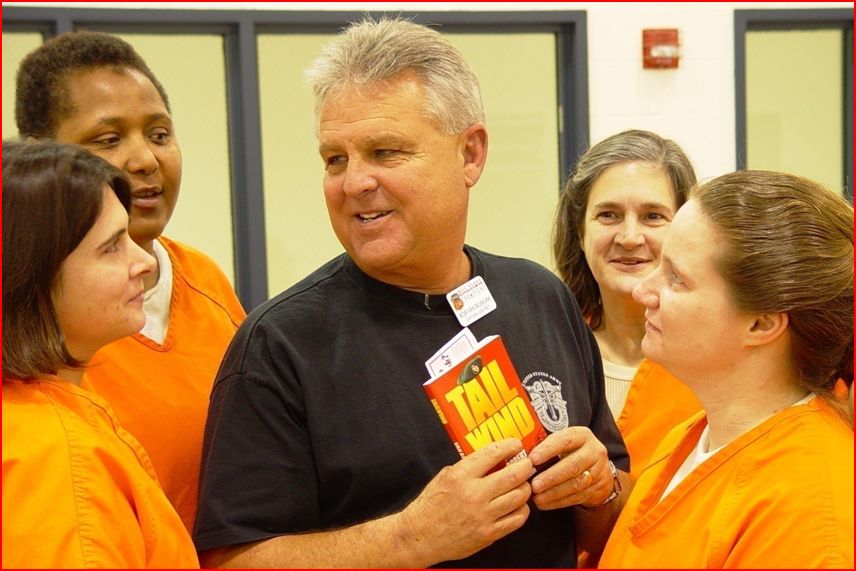 BOB VAN BUSKIRK — In Vietnam as a Special Forces soldier, Bob Van Buskirk was the perfect killing machine. He was wounded five times but returned with honor and medals. Something was missing but he didn't know what it was until he was arrested and detained in Germany. It was there, locked up and unable to run, that he came face to face with his empty life and found Christ./
Photo above: Sandi Fatow shares with inmates. "Smoking and Joking", Sandi's story, was the last LifeChanging book published by Chaplain Ray's International Prison Ministy in 1997.
---
SANDI FATOW — From the fast lane of the «60's» Love Generation to the front-line of God's Green Berets. Sandi tried it all; she joined the Marines, the Jimmi Hendrix Experience, the underworld, and the drug scene. One of the Bill Glass 'Weekend of Champions' most exciting speakers, Sandi and her husband, Steve, travel the world talking the truth that sets people free.
Sandi Fatow's website: PrisonMinistry.net/SF
INPM page: PrisonMinistry.net/SF
Tough Guy Supercop Bob Erler aka The Catch Me Killer
Bob Erler, an ex-Green Beret, became a police officer in Hollywood, Florida and soon was known as a "supercop."
One day he came home and found his wife and son had left him. Still suffering from the effects of a high speed pursuit crash, Bob went into depression.
Later, on a day off, while jogging on the beach, he came across a lady and her 12-year old daughter with no place to stay. He invited them to stay in his trailer but once there the lady told him she would call the police chief and tell him Bob was entertaining two women in his trailer unless he gave her $75.
Suddenly Bob went berserk and shot the lady and her daughter, later dumping the bodies and calling the police station and saying "I've just shot two people, please catch me." From that day the suspect was known as "The Catch Me Killer."
The next day he was assigned to investigate his own homicides.
Soon he was discovered and placed in prison serving 99 years. While in prison he managed to escape but was later captured after a high speed chase and shot in the back with a .357. While laying on the ground pumping blood the sheriff ran up to him, told him not to worry, he (the sheriff) loved him and Jesus loved him and had a plan for his life.
Bob spit in the sheriff's face and laughed, but the reality of the Christian sheriff's words came true years later when a team of Christian athletes ministered at the prison and Bob accepted Christ as his personal Savior. As Bob puts it, "Half a police officer and half a convict became a whole Christian."
Bob Erler then began to hold services and minister while incarcerated at the Arizona State Prison.
Bishop, Charismatic Episcopal Church
Founder, Christian Prison Ministries & Bridges of America, Inc.
Frank Costantino had a long and distinguished career of service to God and his fellowman. Shortly after his conversion while an inmate in Belle Glade Prison, Frank was called to the ministry and, in the early 1970s, founded Christian Prison Ministries and Bridges of America. Under his visionary leadership, as Chief Executive Officer and President, both organizations have experienced continual growth and are providing substance abuse treatment services to thousands of people in and out of prison, each year.
In recognition of Bishop Frank's many accomplishments and good works Orlando Mayor Bill Frederick proclaimed September 23, 1985, to be «Frank Costantino Day,» Florida Governors Bob Graham and Lawton Chiles awarded him Resolutions for his good works, in 1985 and 1989, respectively, and he was recipient of the Billy Graham Center's «Prison Minister of the Year (1989)» award which was presented to him at Wheaton College.
Bishop Frank wrote two books, his autobiography "Holes in Time (1979)" which has been distributed in four languages to 500,000 prisoners worldwide through International Prison Ministries and «More Than A Miracle - The Ministry of Aftercare (1983)» in which he shared the experiences that shaped his life and his ministry after he was released from prison.
With untimely death of Frank Costantino, his wife and ministry partner Bunny Costantino serves on the Board of INPM.
Website: BridgesOfAmerica.org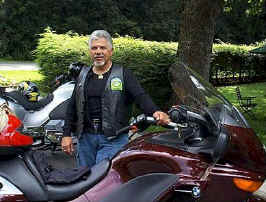 Frank Catania, college graduate, promising singer entertainer, was working for Frank Sinatra at "Sinatra's Bistro" in Miami. Making wrong choices, the young man got involved in organized crime, became a heroin addict, occultist and partied with out law motorcycle gangs. Arrested for international drug smuggling and convicted of armed robbery, Frank Catania was sentenced to 75 years in prison. With a release date of 2036, Frank was assured of only one thing: he would never leave the prison. But God had a plan...
Since 1980 Frank has been free, he serves the Lord as Executive Director of Brother's Keepers Prison Ministries. He is working with leading Christian ministries in prisons, on College campuses, in High School's and conducts Drug Abuse Seminars. Today Frank Catania is internationally known conference speaker.
Frank has recorded a host of spiritual tapes and Cd's. His story "For Tomorrow You Will Die" was published by Chaplain Ray, and distributed to prisoners of English-speaking word. Not long ago the story was published in Italian; Russian edition is in works. Thousands of inmates on both sides of the globe came to Christ through Frank's testimony.
Frank's website: FrankCatania.com
INPM page: http://prisonministry.net/FrankCatania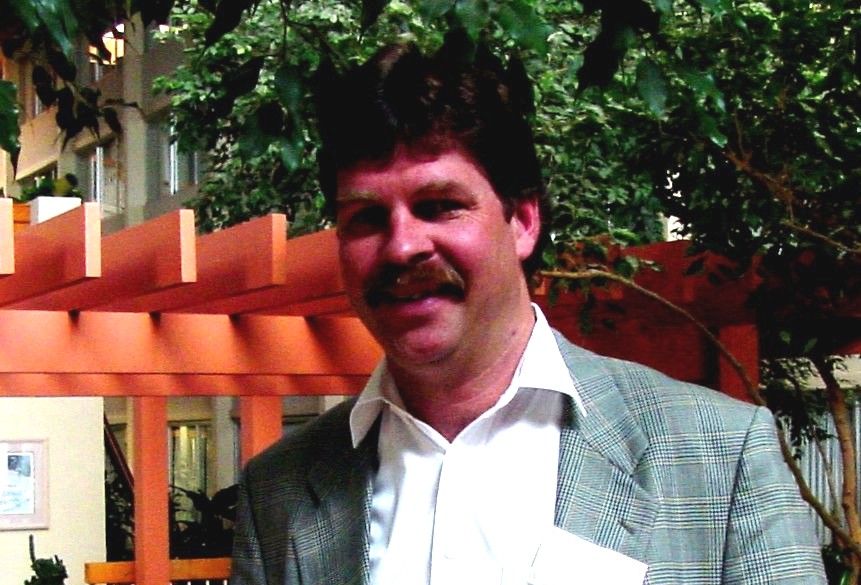 Cornerstone Ministries International takes its roots from Peru, South America where two ex-foreign inmates imprisoned on drug charges in that country, Geary Harris and Ronald Babb decided to come back to the place of horrific imprisonment, now with the Word of God. Very soon the ministry was developed also in other countries and today has links to prison ministries around the world. After the untimely death of the co-founder, G.C. Harris in 1996, Ronald Babb leads the outreach to the world, now from Lissboa, Portugal, and offices in Germany and Great Britain.
After visiting Dallas, TX and inspired by Chaplain Ray's LifeChanging books, Ronald Babb wrote his testimony, "Kokaine", which is available in 3 languages for inmates in many nations.
INPM page: http://prisonministry.net/Babb